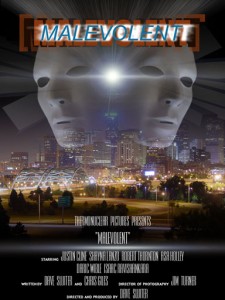 "Malevolent" – Released 2002
Starring Justin Cline, Shayna Lanzo, Robert Thornton, Asa Holley, Isaac Ravishankara and Daric Wible.
Production Notes
[It's not "Malevolent" starring Lou Diamond Phillips, directed by John Terlesky. Interesting these both came out in the same year.]
Whew! – Where to begin? I would first like to thank everyone that helped and contributed to this movie. This project was way bigger than I had originally envisioned. I could not have completed it with out you – THANKS! I especially relied on Jim Turner (director of photography) for fresh and clever ideas on shot composition. Jim saved me a hundred times.
The origin of the story evolved out of a trip to "The Ritz" (a costume & clothing store) when we were looking for costumes for "The Chi Stone". Isaac, as I remember, put on one of those theater masks and I thought it looked kinda creepy. When I got around to thinking about what to do next, I remembered the masks. I wanted to do something more dramatic and realistic, and I remember Justin saying something about "acting" in the next one. I also wanted to shoot the whole thing at night so I didn't have to wrestle with the challenges of daylight shooting. The mental image I had in my head at the time was "Sopranos" + "X Files" + martial arts. The original idea I presented to Chris Giles was these two "perfect" hit-men. No one knew their faces as they wore the masks. As time went on the idea became more "X Files-ish". Chris has an excellent imagination and his input was invaluable. I have always liked the way that the "X Files" was shot; the lighting, the camera work etc. So eventually we hit on the idea that the guys with the masks were "not from around here". They became time traveling aliens (TTA's as we referred to them) on exploration, lacking any understanding our of morality and completely invincible (you can argue that they were "projections" from somewhere or they were able to manipulate matter very very fast). I also wanted to explore the idea of hatred eating you up inside & leading to personal destruction. The plot points distilled down to seven scenes. This put us at about 20 minutes. Too long. One scene had to go. We decided to cut the Chinese mob boss scene where the boss and his men were discussing Jimmy's activities outside the blessing of the family. Set in a large mahogany office with one or two desk lamps, shot in one long take, in a great circle around the outside of the boss's men. It would have been an awesome shot. But alas, it had to go 🙁 Now we had it down to six scenes, do-able in 15 minutes.
It was interesting to me to discover that dialog that read OK to Chris & I was horrible when performed. Writing believable dialog is a real art. I gave everyone a lot of room to adapt the dialog to make it more realistic and/or believable. It's a big story to tell in 15 minutes and there are noticeable "jumps" in several places that bug me – ug! – oh well 🙁
Since it was such a big project to undertake, there inevitably are mistakes made. The one that annoys me the most are all the shots of lighting instrument cords plugged into wall outlets. I was going to paint them out, then Jim pointed out that it was OK to have stuff plugged in – people do plug things into wall outlets. However the second shot of Stranger 2 (Isaac) approaching the Thug (Kevin) had a shot of the whole lighting instrument: stand, dimmer, cord, light. That one had to go.
We did have a lot fun on the set shooting this one – as you can see from the out takes. One thing I did was bring along the chi stone box one night and I placed it on a table in the background – see if you can spot it.
So who was this "Daric" character anyway? Daric was supposed to run a karate studio in urban Denver, helping kids get their lives straightened out. Daric had honorable intentions but the studio was funded by the Chinese crime family. This is where Jimmy, Kevin and Johnny learned their martial arts.
In retrospect, there are many things I would change given the opportunity. Alas, there isn't enough time in the day for work, family and movie making. It's as good as it can be given the amount of time I did have. In that context, I rate this one a B+.
Continuity Errors
Here is the list of continuity errors that I'm aware of: Shayna is wearing a necklace before time traveling, after it is missing. Justin is wearing a bracelet thing on his wrist & after time traveling, it's missing. In scene 04, Abo's store lights are on, then suddenly they are off and there's no bike in the bikerack and then there is. In scene 05 when Stranger 2 "warps" across the room towards Johnny (Robert), both Jimmy (Justin) and Sara (Shayna) are missing from the shot. Also in scene 05, as Stranger 2 approaches Sara, Justin's reflection can be seen in the window as he's relaxing against a post.